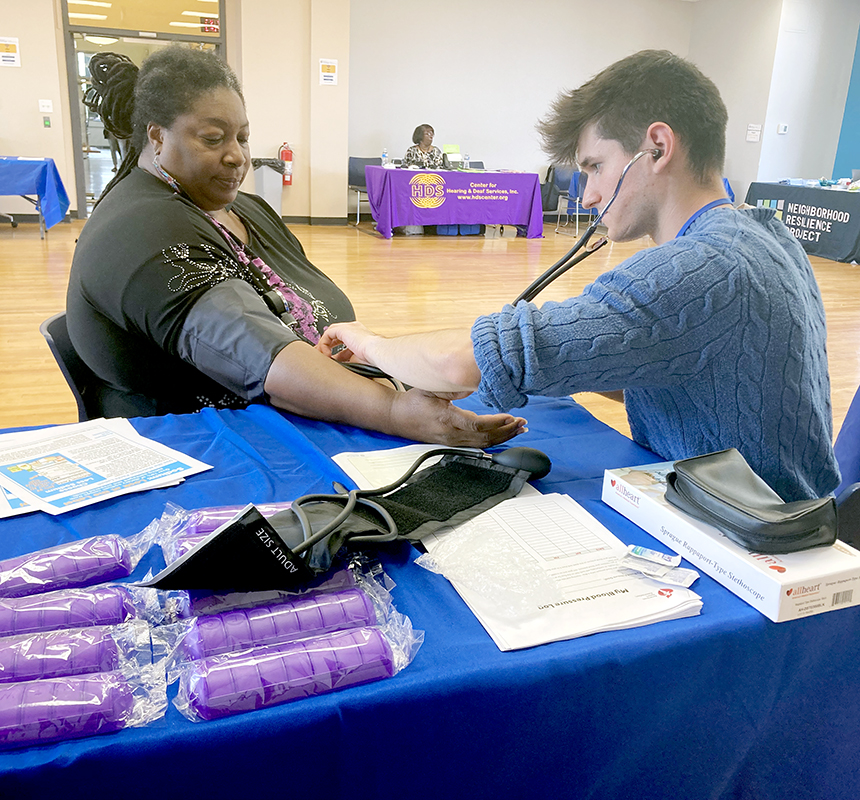 The University of Pittsburgh School of Pharmacy, in partnership with the Schools of Medicine, Nursing and Health & Rehabilitation Sciences, is one of five universities that will each receive a $20,000 grant to teach the correct way to check blood pressure, the American Medical Association announced Aug. 30.
"Despite the fact that inaccurate blood pressure measurements are linked to errors in diagnosing and treating high blood pressure, and can lead to more adverse outcomes, medical and health profession students are not currently receiving consistent training in BP measurement," said AMA President Jesse M. Ehrenfeld, M.D. "Through this grant program, the AMA is expanding its efforts to uniformly train more medical and health profession students to take accurate blood pressure measurements. We believe this is a critical effort given that the percentage of American adults with hypertension who have their blood pressure under control has significantly declined in recent years."
The Pitt program, called Pitt BEAT – Bridging Education and Team-Based Care – for Blood Pressure Measurement is expected to begin its signature blood pressure screening events on Sept. 13 at the Panther Wellness Fair at the William Pitt Union, said Melissa S. McGivney, PharmD, FCCP, FAPhA, Associate Dean for Community Partnerships, and Professor of Pharmacy and Therapeutics, who led the application for the grant.
Research demonstrates that accurate blood pressure measurement is an important step to improve hypertension control for the more than 122 million U.S. adults with high blood pressure.
McGivney said the blood pressure training is led by faculty in the schools of Pharmacy, Medicine, Nursing and Health and Rehabilitation Science (SHRS) as well as the Pitt Vaccination & Health Connection Hub (The Hub).
"This grant provides an opportunity for our faculty and students to work across the health sciences to standardize our approach to blood pressure measurement and engage our students in caring for our community and neighbors," McGivney said.
There are 21 faculty members engaged across medicine, nursing, pharmacy, dietitian nutritionist and physician assistant programs. 
McGivney designed the program to establish a model for bringing faculty and staff together to deploy standardized blood pressure measurement training connected to clinical opportunities.  Over 600 students across the Health Sciences (an estimated 156 medical, 155 nursing, 222 pharmacy, 59 physician assistant, and 48 dietitian nutritionist) will complete the three modules as a part of their initial instruction on blood pressure measurement. Students will have a simulated blood pressure experience before engaging in one of the four signature Pitt BEAT experiences. 
Each of these community-based, patient care Pitt BEAT experiences will provide students with an opportunity to conduct blood pressure screenings under the supervision of a trained practitioner while conducting patient care alongside a student from another health profession. Patients will receive education about blood pressure and cardiovascular disease prevention, and connections back to primary care or their cardiologist.
Join one of the upcoming Pitt BEAT signature experiences occurring in partnership with the Hub's Mass Flu Vaccination Events on Sept. 13 and 15 at the William Pitt Union and Oct. 3 and 4 at the Petersen Events Center. You can also stop by the Pitt Vaccination & Health Connection Hub daily for blood pressure screenings and vaccinations. Learn more at:  healthhub.pitt.edu
The other 2023 AMA Student BP Measurement Module Implementation Grant recipients are Johns Hopkins School of Nursing, University of Washington School of Medicine, Stony Brook University and Nova Southeastern University, Dr. Kiran C. Patel College of Allopathic Medicine.