Site/Location
UPMC Magee-Womens Hospital, Pittsburgh, PA
Program Purpose
PGY1 pharmacy residency programs build on Doctor of Pharmacy (Pharm.D.) education and outcomes to contribute to the development of clinical pharmacists responsible for medication-related care of patients with a wide range of conditions, eligible for board certification, and eligible for postgraduate year two (PGY2) pharmacy residency training.
Mission
UPMC's mission is to serve our community by providing outstanding patient care and to shape tomorrow's health system through clinical and technological innovation, research, and education.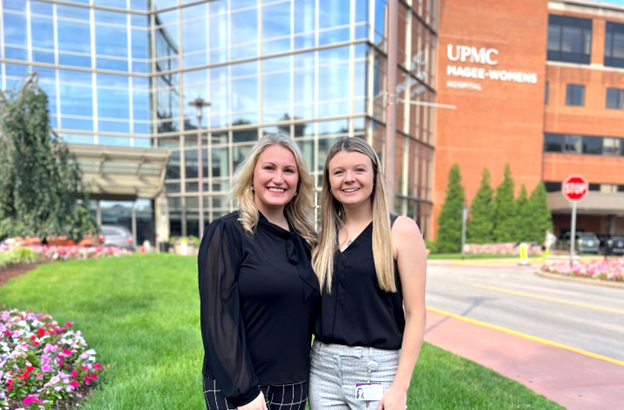 What makes us unique?
For more than a century, UPMC Magee-Womens Hospital has been caring for women through all stages of their lives. One of the nation's top hospitals specializing in women, Magee combines a wealth of specialty services with a traditional focus on gynecologic and obstetric services. Long renowned for its services to women, Magee also offers a wide range of care to men as well.
 The pharmacy residency program at Magee offers the unique experience of completing a PGY1 residency at an academic medical center, while also gaining exposure to the various populations relating to women's health. Flexibility within the program allows residents' experience to be tailored to them, with access to off-site experiences within the UPMC system.
Program Overview
Patient Care and Pharmacy Experiences

Required Block Learning Experiences:
Orientation (5 weeks)
Antimicrobial Stewardship (5 weeks)
Critical Care (5 weeks)
Inpatient Oncology I (5 weeks)
Internal Medicine I (5 weeks)
Neonatal ICU (5 weeks)
Nutrition Support1,2 (4 weeks)


Required Longitudinal Learning Experiences:
Research (48 weeks)

One half-day per month, occurs on the first staffing Friday of each month Management (48 weeks)
One half-day per month, occurs on the first staffing Friday of each monthOperations (42 weeks)
One 4-hour evening shift every other Friday, two 8-hour weekend shifts every other weekend

Elective Learning Experiences**:

Emergency Medicine1 (4 weeks)
Infectious Disease (2-4 weeks)
Inpatient Oncology II (4-5 weeks)
Internal Medicine II (4-5 weeks)
NICU II (4-5 weeks)
Oncology1 (4 weeks)
Toxicology1 (4 weeks)
Transitions of Care (2 weeks)

1 Indicates off-site rotation

2 Nutrition Support is an off-site required learning experience at UPMC Shadyside Hospital (~2.2 miles from UPMC Magee-Womens Hospital). Meal and parking tickets are available, though no mileage reimbursement is provided.  

**Other experiences are available based on resident interest and preceptor availability

Teaching Experiences

 

Elective:

Mastery of Teaching Program through the University of Pittsburgh School of Pharmacy (48 weeks)

 

Research/Quality Improvement Experiences

Elective:

Resident Research Series through the University of Pittsburgh School of Pharmacy (48 weeks)

Requirements for Program Completion

 

Completion of all orientation requirements (i.e. modules, main pharmacy training checklist, etc.)
Obtain pharmacist licensure in Pennsylvania no later than 120 days after the start of the residency year
Completion of all learning experiences (including longitudinal) and associated evaluations
Completion of all required staffing shifts, including:

Twenty 4-hour evening shifts, 4:00pm-8:00pm every other Friday
Forty 8-hour weekend shifts, comprised of rotating shift times every other weekend
One 8-hour shift on a major holiday (Thanksgiving Day, Christmas Day, or New Years Day)
One 8-hour shift on a minor holiday (Martin Luther King Day or Memorial Day)

Meets "ACHR" on 80% of required objectives with no "needs improvement" on any objectives at the end of program
Completion of one medication use evaluation (MUE) and one poster presentation relating to MUE at ASHP Midyear
Completion of one major research project and one platform presentation relating to major research project at the University of Pittsburgh Resident Research Day
Completion of one manuscript relating to major research project that is suitable for publication

Manual/Policy and Procedures

The residency manual and policies will be distributed at the time of the interview invitation.
Employment Information
Start Date: 7/1/2024
Term of Appointment: 52 weeks
Stipend and Benefit Information
Yearly Stipend: $52,797
Paid Time Off: 20 days total (including vacation, sick, and professional days)
Benefits: Advantage Platinum UPMC Health Plan (medical insurance), Basic Plus UPMC Vision Care (vision insurance), and Standard UPMC Dental Advantage (dental insurance) all available at no out-of-pocket cost; Meal stipend of $75/month; Basic life insurance and short-term disability available at no cost.
Link to GME 2024 Benefits Guide: 2024 Benefit Highlights (upmc.com)
Travel: Travel and conference registration reimbursement is available for the ASHP Midyear meeting. Reimbursement for other conferences may be considered on a case-by-case basis.
Application/Interview Information
Application deadline: January 2nd
Interviews will be virtual and occur in late January-early February
Meet Our Team
Residency Program Director:
Jessica Nero, PharmD, BCPS (nerojv2@upmc.edu)
Preceptors
Current Residents
Nicole Pavasko

, PharmD

Morgan Voithofer

, PharmD
Past Residents and First Positions
2022-2023 Class
Mikaila Eross, PharmD, PGY2 oncology resident at Allegheny General Hospital
Stephanie Johnson, PharmD, Emergency Medicine Clinical Pharmacist at UPMC Presbyterian Hospital
2021-2022 Class
Justin Musco, PharmD, Pharmacist at UPMC Magee-Womens Hospital
2020-2021 Class
Samantha Poblete, PharmD, BCOP, Oncology Clinical Pharmacist at Roswell Park Comprehensive Cancer Center
2019-2020 Class
Jennifer Fay, PharmD, Antimicrobial Stewardship Pharmacist at Heritage Valley Beaver Hospital
Social Media
Please follow us on Instagram at @upmcmageepharmacyresidency