The UPMC Presbyterian Shadyside PGY1 pharmacy residency program builds on Doctor of Pharmacy (PharmD) education and outcomes to contribute to the development of clinical pharmacists responsible for medication-related care of patients with a wide range of conditions, eligible for board certification, and eligible for postgraduate year two (PGY2) pharmacy residency training.
Site/Location
UPMC Presbyterian
Program Purpose
PGY1 pharmacy residency programs build on Doctor of Pharmacy (Pharm.D.) education and outcomes to contribute to the development of clinical pharmacists responsible for medication-related care of patients with a wide range of conditions, eligible for board certification, and eligible for postgraduate year two (PGY2) pharmacy residency training.
Mission
PGY1 pharmacy residency programs build on Doctor of Pharmacy (Pharm.D.) education and outcomes to contribute to the development of clinical pharmacists responsible for medication-related care of patients with a wide range of conditions, eligible for board certification, and eligible for postgraduate year two (PGY2) pharmacy resident training.
To prepare pharmacists to assume any of the following roles:
Patient care provider;
PGY2 training in their specialty area of choice;
Pharmacy educator.
Our residents will become confident, effective practitioners of pharmacotherapy. Residents will focus on ensuring application of safe, effective, and evidence-based medicine practices to individual patients and in populations across the health system. These practitioners will demonstrate competency in educating their patients as well as present and future healthcare professionals.
What makes us unique?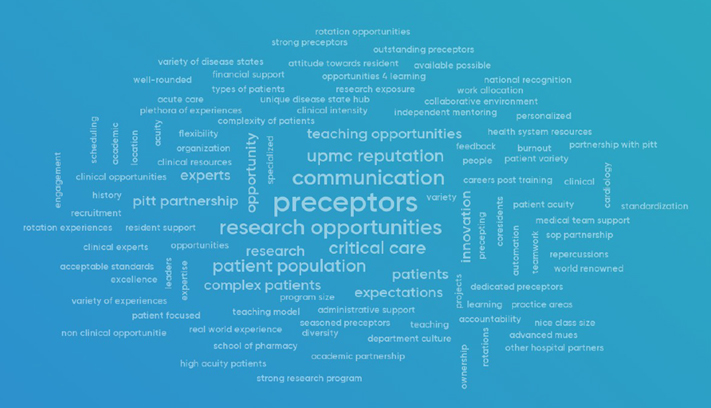 Program Overview
Required Learning Experiences

Direct Patient Care I (Medicine)
Direct Patient Care II (Critical Care)
Direct Patient Care III (Precepting)
Ambulatory Care
Antimicrobial Stewardship/Infections Diseases
Hospital Pharmacy Management
Hospital Pharmacy Services I and II (longitudinal)

Required Teaching Experiences

Student Topic Discussion Series
Clinical Pearl Presentation
Pharmacy CE Presentation (2)

Required Teaching Experiences

Clinical Management I and II
Resident Research I, II, III, IV

Elective Learning Experiences

Addiction Medicine/Behavioral Health
Ambulatory Care Elective

Geriatrics
Heart and Vascular Institute
Underserved Care
Pittsburgh AIDS Center for Treatment (PACT)

Cardiology
Emergency Medicine
ICU Elective

Cardiothoracic
Coronary Care
Medical
Neuro
Surgical Trauma
Transplant

Oncology
Outcomes Research
Palliative Care
Pediatrics
Psychiatric Pharmacy
Transplant

Toxicology

Administrative Electives

Clinical Pharmacy Services Management I
Data Analysis and Modeling
Finance and Budgeting I
Medication Use Safety and Risk Management I
Pharmacy Information Technology and Automation I
Pharmacy Inventory and Asset Management
Pharmacy Operations I

Mastery of Teaching

Example Schedule

Requirements for Program Completion

 

Pharmacotherapy Updates and Lecture Series for continuing Education (PULSE)

Each resident is required to present two formal continuing education sessions to other residents, faculty, staff and students.  One presentation will be independent and one with be in collaboration with another resident.  Topics may include clinical controversies and therapeutic updates.  Residents are also required to attend sessions throughout the year and serve as a dedicated peer evaluator at defined sessions.

Clinical Pearl

Each resident will deliver one  5-8 minute therapeutic "pearl" at a monthly pharmacy staff meeting during both the morning and afternoon sessions.  This short presentation is designed to provide education to all pharmacy staff including technicians, interns, and pharmacists.

Journal Club

Each resident is assigned an article for critical review as well as leading questions.  The resident will share their assessment and recommendations with clinical pharmacists and students in a 30-minute presentation in the first semester.

Case Conference

Residents are assigned with approximately 7-days notice a complex clinical case to review and develop therapeutic recommendations for a leading question.  Residents will review the literature and develop a formal presentation to review the case and share their recommendations with clinical pharmacists.  The clinical cases are designed to simulate therapeutic conundrums and the rapid turnaround often necessary in clinical practice.  Residents should expect robust discussion from preceptors.

Teaching - Student Topic Discussion

Following an introductory "resident topic series" during orientation, residents will be assigned a topic to develop with a mentoring preceptor that will be delivered to pharmacy students at UPMC Presbyterian.  Typically the resident will observe the topic discussion between students and preceptor prior to developing their own content.  After approval from their preceptor, pharmacy residents will deliver a topic discussion with students under the direct observation of their preceptor.  Feedback from the preceptor should inform future presentations.  Each resident should present a minimum of two sessions with preceptor feedback.  Residents may present additional sessions independently at the discretion of the assigned preceptor.

Hospital Pharmacy Services (staffing) -

Residents must obtain pharmacist licensure in the Commonwealth of Pennsylvania no later than October 28 of the residency year. 

Residents must successfully complete Pharmacy Department competencies related to the following clinical programs:  Pharmacokinetics, Warfarin, Anti-thymocyte globulin.  The resident pharmacist must also complete all other hospital and departmental competencies as assigned.

Residents will provide pharmacy services every other weekend and on a select number of holidays in addition to one weeknight (typically 4 hours) every other week.  The complement of services performed will depend on the shift assigned.

Residents will also contribute to and co-edit one edition of the Pharmacy Focus, the departmental newsletter.

Research and Inquiry

Following completion of required "research modules", each resident will complete a resident research project as well as a formal medication use evaluation.  Each requires both preliminary departmental presentation as well as formal presentation:  Resident Research Day for research and appropriate hospital committee for MUE.  Residents must submit a manuscript style report of their resident research findings. 

Manual/Policy and Procedures

Meet Our Team

Residency Program Director
Heather J Johnson, PharmD BCPS FCCP
412-864-3777
johnsonhj@upmc.edu

Residency Program Coordinator
Danine Sullinger, PharmD BCCCP
sullingerd@upmc.edu

Current Residents

Edward Chao, PharmD

Marsa Esmaeili Koosej, PharmD

Yingsi Fang, PharmD

Katie Gray, PharmD

Jean Kim, PharmD

Jelena Lakic, PharmD

Kayleigh Yaeger, PharmD

Kenzie Zamberlan, PharmD

Preceptors

Brian Baum, PharmD, MS Toxicology, MBA, BCPS, BCCCP
Tim Brenner, PharmD, BCOP
Abby Chiappelli, PharmD, BCCCP
Joseph Durkin, PharmD BCCCP
Carly Gabriel, PharmD, BCACP
Lara Groetzinger, PharmD, BCCCP
Thomas Hebert, PharmD
Matthew Joseph, PharmD, BCPS
Catherine Kim, PharmD, BCCCP
Alfred L'Altrelli, PharmD
Rachel Marini, PharmD, BCIDP
Cory McGinnis, PharmD. BCCCP
Trisha Miller, PharmD, MPH, BCACP
Cody Moore, PharmD, MPH, BCTXP, BCPS
Marian Pelts, PharmD
Ryan Rivosecchi, PharmD, BCCCP
Lauren Sacha, PharmD, BCTXP, BCPS
Sunish Shah, PharmD, BCIDP
Kristen Shimko, PharmD BCTXP
Adrienne Szymkowiak, PharmD BCCP
Danine Sullinger, PharmD, BCCCP
Janine Then, PharmD BCPS
Melanie Yabs, PharmD BCPP

Past Residents and First Positions

 2023
Allison Burdick (PGY2 Emergency Medicine, Jackson Hospital, Montgomery, AL)
Victoria Collier (PGY2 Critical Care, St. Barnabas Hospital, Bronx NY)
Benjamin Herrmann (PGY2 Transplant, UPMC Presbyterian)
Michael Mast (PGY2 Health-System Pharmacy Administration, UPMC Presbyterian)
Brianne Slaven (PGY2 Ambulatory Care (Global Health), UPMC Presbyterian)
Ryan Tober (PGY2 Health-System Pharmacy Administration, UPMC Presbyterian)
2022
Taylor Holder (Clinical Pharmacist, University of Chicago)
Matthew Jackson (PGY2 Health-System Pharmacy Administration, UPMC Presbyterian)
Grace Kim (PGY2 Geriatrics, UPMC St. Margaret)
Autumn Smith (PGY2 Oncology, West Virginia University Medicine)
Taylor Werner (PGY2 Oncology, UPMC Presbyterian Shadyside)
Heting Zhang (PGY2 Health-System Pharmacy Administration, UPMC Presbyterian)
 2021
Tia Bullard (PGY2 Critical Care, Massachusetts General Hospital, Boston)
Julie DiBridge (PGY2 Cardiology, UPMC Presbyterian)
Zoe Karavolis (PGY2 Psychiatric Pharmacy, Western Psychiatric Hospital)
Erin McMahan (PGY2 Internal Medicine, West Virginia University)
Katelyn Rudzik (PGY2 Transplant, UPMC Presbyterian)
 2020
Jacob Gregory (Pharmacist, UPMC Presbyterian)
Aaron Hutchins (PGY2 Transplant, Nebraska Medicine, Omaha, NE)
Marissa Levito (PGY2 Cardiology, UPMC Presbyterian)
Katharine Woodworth (PGY2 Oncology, UPMC Presbyterian Shadyside)
 2019
Bailey Colvin (PGY2 Cardiology, UPMC Presbyterian)
Stacy Fredrick (PGY2 Transplant, UPMC Presbyterian)
Kaitlin Landolf (PGY2 Critical Care, University of Maryland Medical Center)
Erica Sheridan (PGY2 Cardiology, University of Kentucky)
Sarah Spitznogle (PGY2 Infectious Diseases, University of Texas MD Anderson Cancer Center)

Recruiting Events

UPMC Presbyterian  PGY1 Pharmacy  Residency Virtual Open Houses

Meet Program Faculty
Date: Tuesday, November 28, 2023
Time: 5:00-6:00 PM EST
TEAMS  Link: Join the meeting

Meet Current Residents
Date: Tuesday, December 5, 2023
Time: 3:00-4:00 PM EST
TEAMS  Link: Join the meeting

Meet Program Faculty
Date: Tuesday, December 12, 2023
Time: 5:00-6:00 PM EST
TEAMS  Link: Join the meeting

Meet Current Residents
Date: Thursday , December 14, 2023
Time: 4:00-5:00 PM EST
TEAMS Link:  Join the meeting
Employment Information
Start Date:  July 1
Term of Appointment:  12 months

Stipend and Benefit Information
Yearly Stipend: $50,038 (2023-24)
Paid Time Off:  20 days
Benefits: Health, dental, eye care, life, and disability available
Travel:  The amount provided for professional meetings is determined yearly and may not cover all related expenses.
Application/Interview Information
Applications must be completed through PhORCAS by January 2.
Applications will be evaluated on a rolling basis.
Letter of reference must include at least 2 from clinical preceptors.
Letter writers must comment on at least 5 of the qualities, including specifically the ability to organize and manage time, the ability to work with peers and communicate effectively and clinical problem solving skills.
A select number of candidates will be invited to participate in a live interview.  Most interviews will be conducted in the month of February.
Publications
Dorazio J, Chiappelli, A, Shields RK, et al. Clindamycin plus Vancomycin versus Linezolid for Treatment of Necrotizing Soft Tissue Infection. Open Forum Infectious Diseases. May 2023.258. https://doi.org/10.1093/ofid/ofad258
Rudzik KN, Moore CA, Sacha LM, Rivosecchi RM, Saul M, Pilewski JM, Kilaru SD, Snyder ME, McDyer JF, Iasella CJ. Rabbit Antithymocyte Globulin for Treatment of Corticosteroid Refractory Acute Cellular Rejection After Lung Transplantation. Transplantation. 2023 May 05.
Rudzik KN, Rivosecchi RM, Palmer BA, Hickey GW, Huston JH, Keebler ME, Kaczorowski DJ, Horn ET.
Basiliximab induction versus no induction in adult heart transplantation. Clinical Transplantation. 37(5):e14937, 2023 05.
Groetzinger LM, Hutchins AT, Rivosecchi RM. An Evaluation of Continuous Infusion Rocuronium for Sustained Neuromuscular Blockade in Critically Ill Adults. Annals of Pharmacotherapy. 55(6):732-737, 2021 06.
DiBridge JN, Rivosecchi RM, McVerry BJ, Lamberty PE, Donahoe MP, Groetzinger LM. Comparison of three cisatracurium dosing strategies in acute respiratory distress syndrome: A focus on drug utilization and improvement in oxygenation. J Crit Care. 2021;66:166-172.
Levito MN, McGinnis CB, Groetzinger LM, Durkin JB, Elmer J. Impact of benzodiazepines on time to awakening in post cardiac arrest patients. Resuscitation. 165:45-49, 2021 08.
Landolf KM, Rivosecchi RM, Gomez H, Sciortino CM, Murray HN, Padmanabhan RR, Sanchez PG, Harano T, Sappington PL. Comparison of Hydromorphone versus Fentanyl-based Sedation in Extracorporeal Membrane Oxygenation: A Propensity-Matched Analysis. Pharmacotherapy: The Journal of Human Pharmacology & Drug Therapy. 40(5):389-397, 2020 05
Rivosecchi RM, Samanta P, Demehin M, Nguyen MH. Pharmacokinetics of Azole Antifungals in Cystic Fibrosis. [Review] Mycopathologia. 183(1):139-150, 2018 Feb.
Iasella CJ, Johnson HJ, Dunn MA. Adverse Drug Reactions: Type A (Intrinsic) or Type B (Idiosyncratic). Clinics in Liver Disease 2017;21:73-87.
Rivosecchi RM, Kane-Gill, SL, Garavaglia J, MacLasco A, Johnson HJ. The effectiveness of intravenous vitamin K in correcting cirrhosis-associated coagulopathy. International Journal of Pharmacy Practice. 2017 doi:10.1111/ijpp.12355
Smith MA; Hibino M; Falcione BA; Eichinger KM; Patel R; Empey KM. Immunosuppressive aspects of analgesics and sedatives used in mechanically ventilated patients: an underappreciated risk factor for the development of ventilator-associated pneumonia in critically ill patients.Annals of Pharmacotherapy. 48(1):77-85, 2014 Jan
Bremmer DN , Clancy CJ , Press EG , Almaghrabi R, Chen L, Doi Y, Nguyen MH, and . Shields RK. KPC-Producing Klebsiella pneumoniae Strains That Harbor AAC(6′)-Ib Exhibit Intermediate Resistance to Amikacin Antimicrob. Agents Chemother. December 2014 58:7597-7600; published ahead of print 6 October 2014, doi:10.1128/AAC.03831-14
Sales I; Jonkman L; Connor S; Hall D. A comparison of educational interventions to enhance cultural competency in pharmacy students. American Journal of Pharmaceutical Education. 77(4):76, 2013 May 13
Jernigan MG; Press EG; Nguyen MH; Clancy CJ; Shields RK The combination of doripenem and colistin is bactericidal and synergistic against colistin-resistant, carbapenemase-producing Klebsiella pneumoniae. Antimicrobial Agents & Chemotherapy. 56(6):3395-8, 2012 Jun.
Duesenberry CM, Coley KC, Kortykowski MT, Donihi AC. Hypoglycemia in hospitalized patient treated with sulfonylureas. Pharmacotherapy 2012:32:613-617.
Schonder KS. Corman SL. Hung WY. Early risk factors for persistent anemia after kidney transplantation. Pharmacotherapy 30(12):1214-20, 2010 Dec.
Smithburger PL. Seybert AL. Armahizer MJ. Kane-Gill SL. QT prolongation in the intensive care unit: commonly used medicatiosn and the impact of drug-drug interactions. [Review] Expert Opinion on Drug Safety. 9(5):699-712, 2010 Sep.
Lavsa SM. Fabian TJ. Saul MI. Corman SL. Coley KC. Influence of medications and diagnoses on fall risk in psychiatric inpatients. American Journal of Health-System Pharmacy. 67(15):1274-80, 2010 Aug.
Martello JL. Pummer TL. Krenzelok EP. Cost minimization analysis comparing enteral N-acetylcysteine to intravenous acetylcysteine in the management of acute acetaminophen toxicity. Clinical Toxicology: The Official Journal of the American Academy of Clinical Toxicology & European Association of Poisons Centres & Clinical Toxicologists. 48(1):79-83, 2010 Jan.
Havrilla PL. Kane-Gill SL. Verrico MM. Seybert AL. Reis SE. Coronary vasospasm and atrial fibrillation associated with ondansetron therapy. Annals of Pharmacotherapy. 43(3):532-6, 2009 Mar.
Pogue JM. Paterson DL. Pasculle AW. Potoski BA Determination of risk factors associated with isolation of linezolid-resistant strains of vancomycin-resistant Enterococcus. Infection Control & Hospital Epidemiology. 28(12):1382-8, 2007 Dec